AT&T named a Leader in 2018 Gartner Magic Quadrant for Managed M2M Services, Worldwide
Read the Gartner Report on Managed M2M Services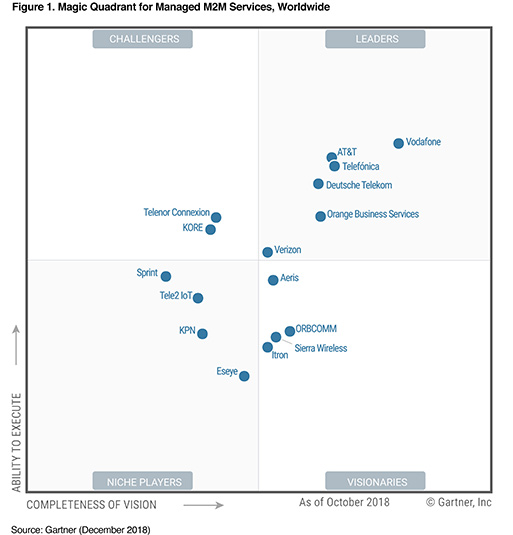 We were named a Leader for our ability to execute and completeness of vision.
As defined by Gartner, "managed machine-to-machine (M2M) services enable businesses to collect, analyze and interact with data streams, thus providing businesses with the ability to monitor, manage and control (manually and through automation) assets associated with business processes. Managed M2M services may encompass integrated and managed IT infrastructure and systems, OT infrastructure and systems, software, network services (connectivity), and IT services."
In this report, Gartner separates M2M services into 7 solutions elements
Sourcing and Logistics Management
Service Management
Device, SIM, and System Management
Application Management
Security Management
Reporting and Analytics
Multisourcing Service Integration
Gartner recommends "CIOs building IoT-enabled businesses can use this document to assess vendors for multiregional connectivity and value-added services to support outcomes."
Why 'ability to execute' matters in IoT
While we have had the honor of being named a 'Leader' by Gartner before, in the 2018 report, AT&T moved up on the quadrant in our ability to execute. We believe the significance of that improvement is vital to IoT. There are many vendors, but proofs-of-concept often stay on the ground. The IoT ecosystem we have developed helps customers with a full suite of modular solutions, with best-in-class alliances and collaborations in a one-stop IoT development shop.
Our value-added solutions are based on strong platforms that simplify multiple aspects of M2M and IoT solutions and enable our customers to scale when they need to. For example, AT&T Multi-Network Connect aggregates third-party data feeds from partner networks and systems for a single view of M2M inventory management.
Also, the AT&T IoT platform offers a range of capabilities including storage and data management, an open-source application development and management environment, and pre-integrated data connectors to data analytics services.
For more information about our IoT Solutions, please click here.
Read the full Gartner report on Managed M2M Services.