AT&T named a Leader in Gartner Magic Quadrant for Network Services, Global
Read the Gartner Report on Network Services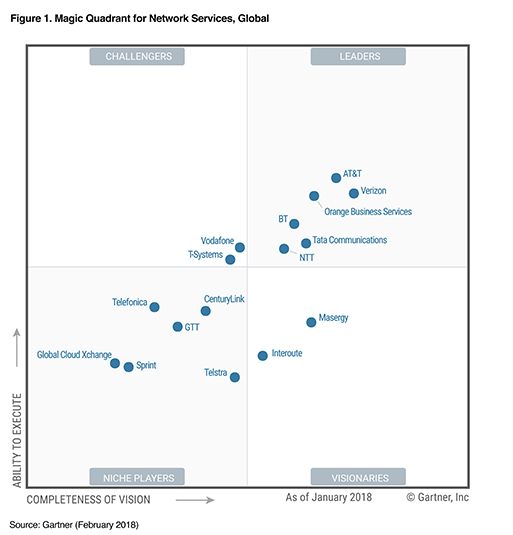 Leading analyst and research firm, Gartner Inc., names AT&T a Leader in its 2018 Magic Quadrant for Network Services, Global, for the 14 consecutive time.
In this Magic Quadrant, Gartner evaluated global enterprise network service providers' "ability to execute" and "completeness of vision".
The report states, "The network services market continues to undergo a major transformation, with new generations of software-based network technologies enabling development of innovative, new emerging services and business delivery models. (....) To reflect this pivot, this Magic Quadrant focused on transformational technologies and/or approaches that deliver on the future needs of the enterprise, rather than simply concentrating on legacy services."
Gartner defines the network service global market as the delivery of fixed corporate networking services with worldwide coverage. Services evaluated include established global network services and emerging global network service categories: WAN services, cloud connectivity, SIP trunking, SD-WAN services, network on-demand services, NFV services, and virtual CPE.
What's Changed?
In the past 12 months, Gartner has seen accelerated change in enterprise requirements and buying criteria for global networks. Enterprises are increasingly focusing on agility, their adoption of cloud services and greater use of the internet as primary WAN transport.
Enterprises are piloting and deploying new services such as managed SD-WAN, network on-demand services, NFV and vCPE to improve the agility of their WANs. As a result, the inclusion and evaluation criteria for this year's Magic Quadrant, although similar to the prior year's research, has been adjusted to reflect these trends.
For more information about our Network Services, please click here.
Read the full Gartner report on Network Services.