AT&T named a Leader in IDC MarketScape: Worldwide Managed Security Services
International Data Corporation (IDC) named AT&T a Leader in their 2018 IDC MarketScape: Worldwide Managed Security Services Vendor Assessment.
Read the IDC MarketScape excerpt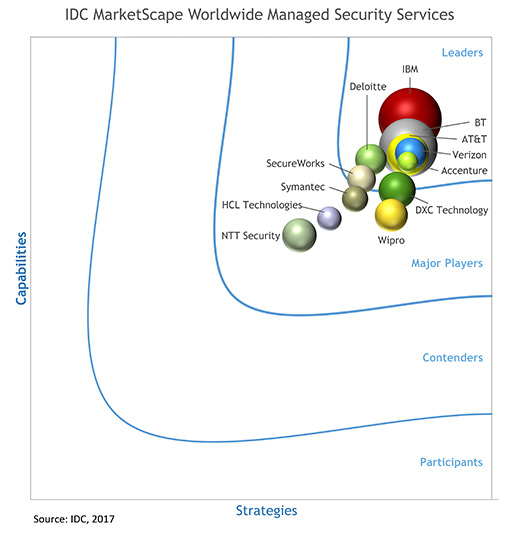 IDC MarketScape vendor analysis model is designed to provide an overview of the competitive fitness of ICT suppliers in a given market. The research methodology utilizes a rigorous scoring methodology based on both qualitative and quantitative criteria that results in a single graphical illustration of each vendor's position within a given market. The Capabilities score measures vendor product, go-to-market and business execution in the short-term. The Strategy score measures alignment of vendor strategies with customer requirements in a 3-5-year timeframe. Vendor market share is represented by the size of the icons.
For the purpose of the assessment, IDC defined Managed Security Services as "the around-the-clock remote management or monitoring of IT security functions delivered via remote Security Operations Centers (SOCs), not through personnel onsite." The IDC MarketScape measured categories ranging from offering strategy, delivery models, pricing and cost management strategy, customer service, and innovation to growth strategy, portfolio offerings, employee management capabilities, and sales and distribution.
IDC recognized AT&T for "making security a top focus." They reported, "(AT&T) is making investments related to advanced threat detection and analysis, threat intelligence, virtualized security functions, and complementary services. In addition, along with its investments in security, the company has made progress in offering flexible delivery options and pricing options and in making security an easy and cost-effective solution for all types of buyers. AT&T is making investments in network function virtualization (NFV), which will give customers more flexibility on how they deploy security solutions."
IDC also recognized AT&T for "improving portal capabilities by creating a more comprehensive user experience that allows customers to choose how involved they want to be in threat detection, investigation, and remediation." They also reported that for the customers who prefer to be hands-on, "the portal allows them to look at alerts and dig deeper into them, and it enables customers to work collaboratively with AT&T on remediation, including AT&T-suggested steps."
IDC reported that, according to customer feedback, AT&T Business has top-notch local support people who are "very knowledgeable in their area of expertise."
To learn more about our Cybersecurity solutions, click here.
Read the full IDC report on Managed Security.